WhatsApp Business
WABA Promotions helps brands connect quickly and easily with their customers on WhatsApp Business.
Facilitate seamless customer experiences between your brand and your customers with WhatsApp Business.
Connect to customers on the messaging app used by over 2 billion people.
WhatsApp is one of the biggest messaging platforms in the world, with people in over 180 countries using the platform to stay in touch with friends, family and businesses, anytime and anywhere.

Alerts and notifications
Send automated WhatsApp notifications such as order confirmations, appointment reminders, flight alerts and more.
Two-factor authentication
Take advantage of end-to-end encryption for two-factor authentication and one-time passwords sent over WhatsApp.
Customer service features
Create a branded profile for your business, providing your customers with a business description, address, email, and website.

Built for automation
Drive agent efficiency by automating common inquiries and FAQs with use case-specific bots.
Leverage the native customer experience features of WhatsApp Business with WABA Promotions:
Real-time and asynchronous conversations
WhatsApp Business gives consumers help on their terms, switching between real-time and non-real time dialog depending on the situation with a persistent end-to-end experience.
Verified business accounts
Provide customer confidence and help to reduce piracy or fraud through verified business accounts. Reach more customers, who are averse to public channels, but happy to communicate via private messaging.

Push notifications
Push proactive notifications for time-sensitive updates based on personalized criteria. Send customers automated account updates, payment requests, appointment reminders and much more.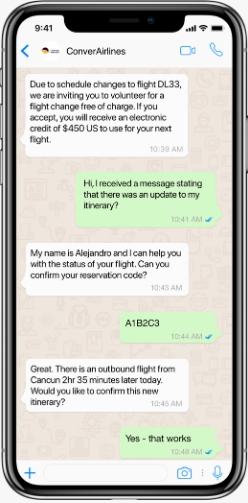 Private messaging encryption
With end-to-end SSL encryption between your brand and the end customer, WhatsApp finally opens up possibilities for more secure, personalized and transactional use cases via private messaging.
Want to learn more about WhatsApp Business as a customer experience channel? Reach out to our team.