Apple Business
Chat
WABA Promotions helps brands connect
quickly and easily with their customers
on Apple Business Chat.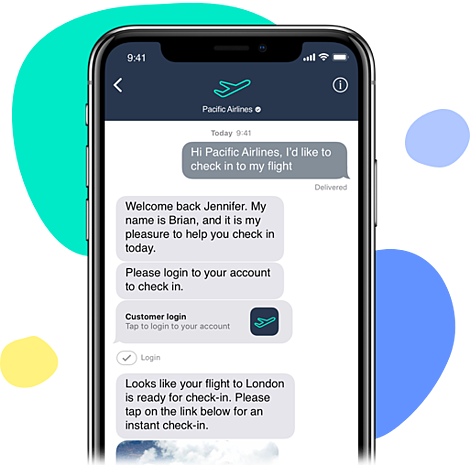 Facilitate seamless communication between your brand and iOS & MacOS customers with Apple Business Chat.
There are more than 1.5 billion monthly active Apple devices worldwide.
Give iOS/Message users a seamless path to communicate with your brand via Apple Business Chat, shifting volume from traditional channels like Phone to Messaging.
Customer service features
Deep iOS integration presents unprecedented opportunities to deflect from more costly channels to messaging.
Secure authentication
Messages are individually encrypted between the user's device and Apple's messaging services.

Broad customer audience
Customers contact you through Apple Business Chat entry points on your website, Apple Maps, iOS Search or by tapping on a registered phone number.

Volume control
Built-in availability throttling for most entry points allows for controlled rollout without contact center volume overload.
Leverage the customer experience features of Apple Business Chat with WABA Promotions:

Chat Suggest — promote messaging while reducing inbound calls
Suggest provides brands with a powerful way to promote messaging as a channel while helping reduce inbound phone calls. When a customer clicks to contact a phone number registered with Apple Business Chat, the option to message the brand is dynamically presented alongside the click-to-call button.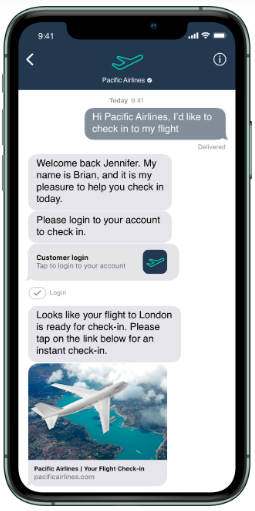 Powerful & expansive — already on every device
Apple Business Chat is more than just text messaging. It's a rich user experience that leverages the power of iOS by bringing in its features into the Messages app, including Apple Pay, Wallet cards, Maps, AR and more. With the Messages app/Messages on all iOS and MacOS devices, Apple Business Chat makes connecting with a brand as easy as messaging a friend.

Secure payment and authentication, directly in messaging
Keep customers in channel by making it easy to authenticate with Apple Authentication and to pay for goods and services with Apple Pay. Seamless integration into wallet allows customers to also manage boarding cards, tickets, and other passes in their wallet.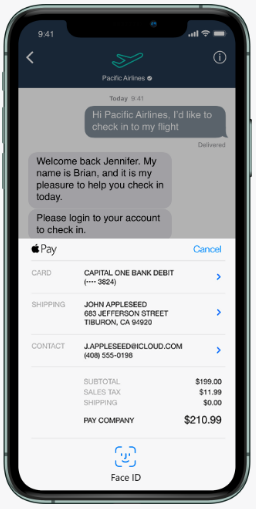 Want to learn more about Apple Business Chat as a customer experience channel? Reach out to our team.